Welcome To SCFB HITEC
Principal's Message
The basic conceptual framework of education at HITEC remains to develop strong character qualities, which is absolutely evident from its motto IN TRUTH I TRIUMPH.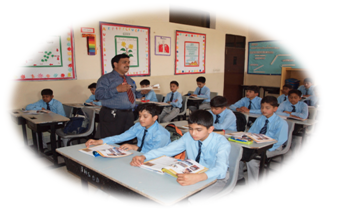 The entire environment of our institution is permeated with that spirit which promotes collaboration and co-operation. We have students from diverse backgrounds, and some also from remote areas of Pakistan.
We help them broaden their perspective and enrich their minds to face the globally competitive era. Our educational programs have evolved as a result of careful planning, and have been tailored to equip out students with such qualities of head and heart that they can plunge into any field of activity which is socially useful and intellectually rewarding.
School and College for Boys
The School and College for Boys (Class VI to XII) provides the students the first rate education in a caring and nurturing environment. A positive transition is effected through the guidance and counseling of the teachers. Educational opportunities are offered for students to learn and grow to the fullest.
A Successful implementation of values like honesty, respect, responsibility, trustworthiness, truthfulness, caring and sharing, justice and fairness enables the students to prepare for the senior level. The staff, students and parents work in unison for attainment of these objectives.
The dedicated faculty of the School and College for Boys imparts quality education that helps students' function effectively as independent individuals. The staff is committed to affect an overall and well rounded personality development. Co & extracurricular participation is deemed significant in the overall development of a child. The section is equipped with imposing infrastructure with the most modern Computer facilities, Music Rooms, well equipped Library and a modern Auditorium. The Principal and his team of experienced teachers prepare students to bear the challenges of the new millennium with courage and sagacity.